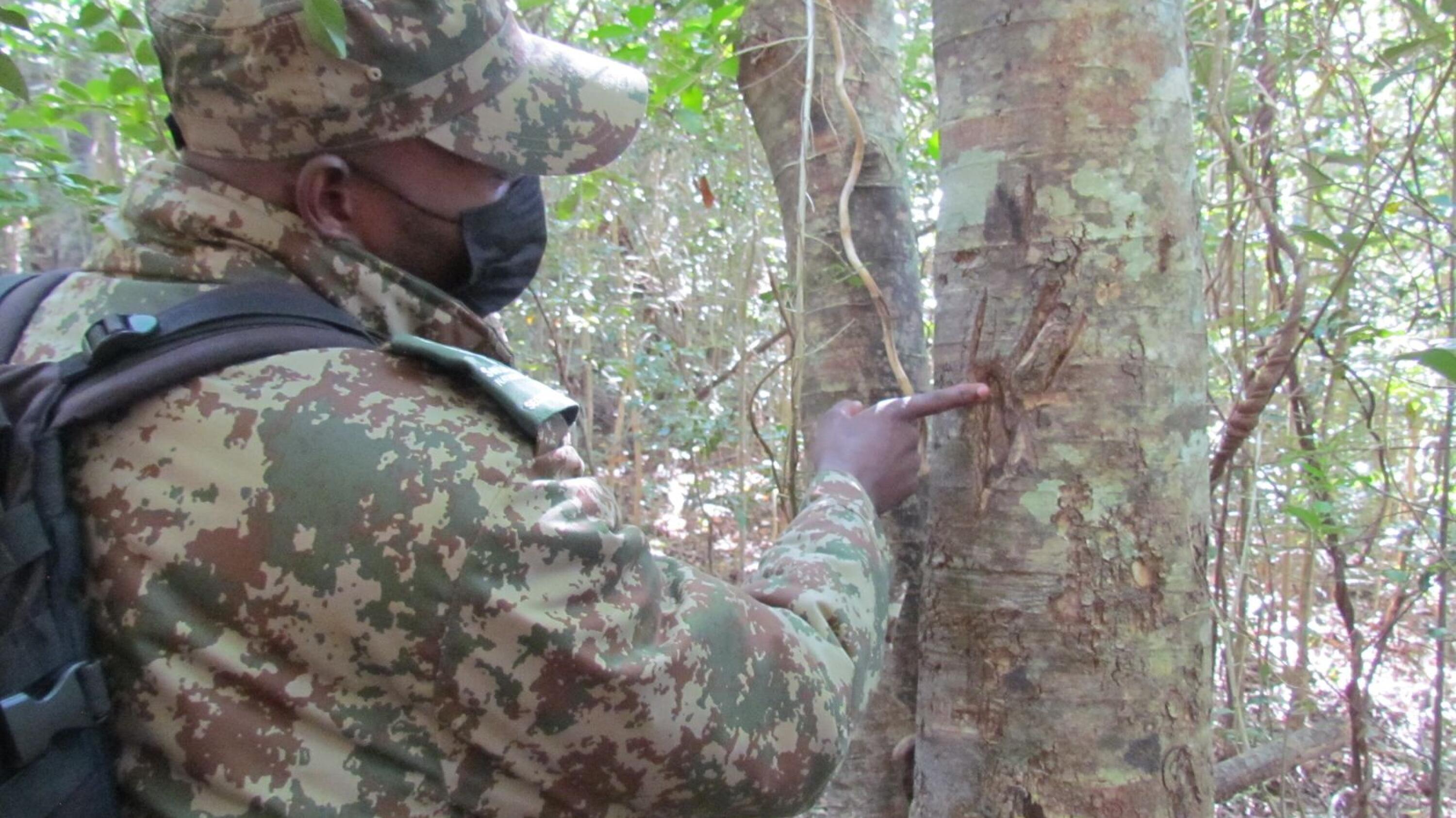 Elite conservation rangers are fighting a war on bark-stripping and poaching in the Table Mountain National Park.
The Sea, Air and Mountain (SEAM) rangers were introduced to the public late last year ("New SANParks rangers team to beef up security", Bulletin, December 13), and since then, they have had a hand in 11 arrests, the issuing of more than R40 000 worth of fines, and the seizure of a boat and 275 abalone, according to SANParks spokeswoman Lauren Howard-Clayton.
The 17 rangers are supported by five dogs and an Airbus H125 helicopter. They patrol the 221 km² park from Cape Point to Signal Hill, including 127km of coastline in a marine protected area.
On Friday April 15, the Seam team caught two poachers in the Cape of Good Hope section of the park. They also located a large active poacher camp and recovered diving gear and other equipment used for abalone harvesting.
Each ranger is assigned a codename to protect their identity.
The Bulletin joined six rangers on a recent patrol in Newlands Forest. They set off along the Littlewort trail in single file to avoid trampling vegetation.
Two members of the team occasionally leave the path to check recently trampled areas looking for signs of fires made by church groups or bark strippers. "No one is allowed to overnight in a national park unless it's a designated protected area," says team leader ZT1.
They also look for signs left by bark strippers to mark trunks to strip – rocks in branch forks, fresh axe cuts or fabric or plastic tied around branches. ZT1 says stripped bark was previously painted with creosote but now dried dung paste is used to protect the inner wood of trees.
"Decades ago spiritualists and traditional healers sustainably harvested bark from trees. Now people strip bark around the circumference of trees for profit," says ZT1. "When this happens, the tree dries out, food and water can no longer get from the roots to the upper branches and it eventually dies."
According to Willem Boshoff, of the Newlands Forest Conservation Group, the area around the picnic spot on the contour path, which was once a lush, verdant tree canopy "has become a veritable war zone", a "graveyard of dead and stripped trees" over the past decade.
Target trees include mature Cape beech (Kiggelaria Africana) and assegai (Curtisia dentata).
When the Seam team comes across a freshly stripped tree, they measure the area and circumference of the tree and take its GPS coordinates. This information is sent to the SANParks operation room, which aids its conservation team with statistics of what is being stripped and where.
ZT1 says Newlands is being hit hard, and bark stripping at Chapman's Peak has increased. "Crime shifts are a challenge," says ZT1. "If we are seen patrolling an area, criminals move elsewhere. Some crimes are not in the park such as muggings at cars on the park fringe. Unlike poaching, which is when we know the right conditions… the moon, tides and weather."
The team members say that while poaching ops can be dangerous they love being outdoors and feel they are helping to prevent crime and keep the public safe while looking after the park for future generations.
They also patrol at night and there is always a team on standby, according to ZT1. Sometimes they do extended operations that can last three days or more.
The team appreciate information from neighbourhood watches and community informers. "This intelligence helps in court," says ZT1.
Pieter Swanepoel, from Blouberg, was pleased to see the rangers while he and his family were walking in the forest. "It sends a message to criminals that something is being done and let's hope that more people will come to the mountain… safety in numbers," he says.
Hearing noise from a radio, the team make a detour and ask a group of children and their guardians to turn the music off. "You're in a nature reserve, a peaceful place where people come to meditate and the noise disturbs animals. It's noise pollution, not acceptable, there are designated spaces to play music," says a ranger.
Michel Schultz, from Sea Point, has been bringing people on walks in Newlands Forest for many years and is very upset about bark stripping, which she says is getting worse. She adds that there are also more signs of fires and pollution.
In the late afternoon, the team of six rangers meet again for a debriefing.
Andy Davies, from Friends of Table Mountain (FOTM), says an urban park will unfortunately always be susceptible to crime. "Therefore we need to see SANParks apply the right level of resources to prevent crime and not only react to it."
The Seam team is a step in the right direction, he says but adds there aren't enough rangers to cover the whole park.
Suspicious activity in the park can be reported to Kloofnek office at 021 422 1601 between 7am and 4pm. After hours the SANParks TMNP emergency number is 086 110 6417 or 021 937 0300.