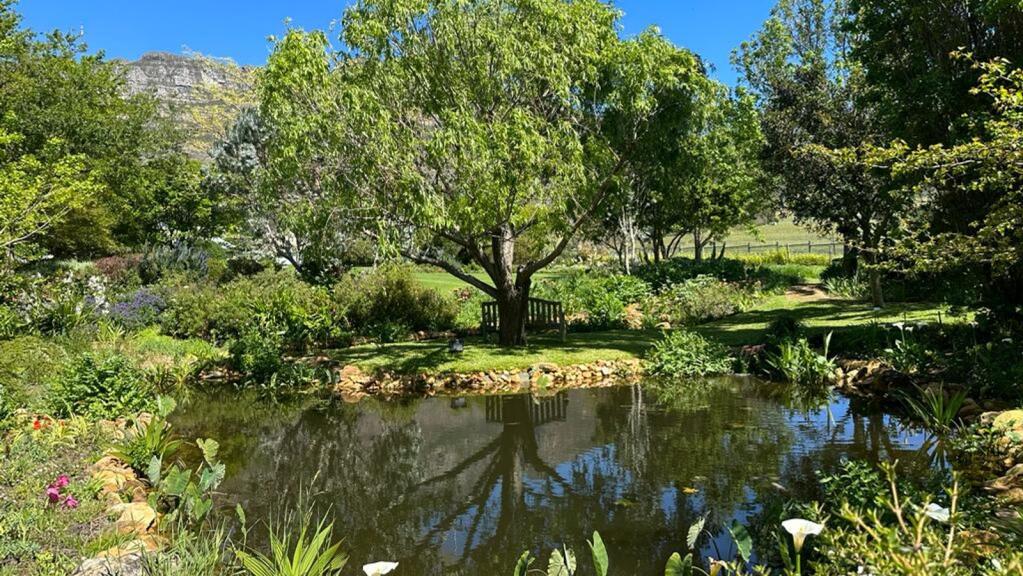 It takes a slow, leisurely stroll to soak up all six acres of beauty at Wendy and Winston Floquet's Water Oak Farm, which will be open to the public this Saturday to raise money for an organisation that helps disabled people to experience horse riding.
Nestled on a Constantiaberg foothill, the garden offers panoramic views of Table Mountain, Vlakkenberg and False Bay. It includes a meadow, a herbaceous pond, rolling green lawns and gardens of fynbos, succulents and cacti.
This Saturday's open garden, from 9am to 5pm, will be in aid of SA Riding for the Disabled (Sarda). Based in Brommersvlei Road, Constantia, the non-profit offers free horse riding to children and adults living with intellectual and physical disabilities.
The garden has struggled against the weather, says Ms Floquet.
"We had a very hot early winter and then it got very cold. We had a couple of lovely days with no real spring. Spring has come now. But every time the flowers would come out to open they had to shrivel up and go back inside themselves again because there was another cold front."
She says that apart from a few odd branches, the garden was spared the worst of the recent storms.
"For the first time, there were two waterfalls coming down over Constantiaberg. I have never seen that before in the 23 years we have been here, and the landslides are still visible as dramatic brown strips where the land has just catapulted away."
She says the ground was so saturated after the heavy rains that it left their lawn looking more like a lake.
"We have benefited from the rain, everything has been boosted by that extra rain but it certainly sat here for a while.
"Our biggest problem has been runner moles, who I think like that sort of weather. They just popped out everywhere. They go across the top and leave little tracks.
"The little devils", she says, have, however, stopped their reign of terror in time for the open day.
"The blooms are a bit behind because of the bad weather, but gardeners will hopefully understand that. We are trying to get everything ready, but you can't tell plants: you flower tomorrow and the next one, the next day. However, we've managed and it is looking pretty.
"The fynbos and pincushions are excellent, the Watsonias are out when normally they are finished, the Patagonias are trying and the Pride of Madeira is flowering as well. We planted completely new greysalt bushes which are now almost a metre high."
Jenny Blackburn, a Sarda volunteer and coordinator of the open garden, says the Floquets have supported them for many years.
"Each year this fund-raising event, which raised R67 000 and had over 630 visitors last year, has been hugely helpful with the assistance of the upkeep of the facilities and horses that enable the therapeutic horse riding lessons for persons living with disabilities who attend the classes at Sarda."
Water Oak Farm is at 91 Klein Constantia Road, Constantia. Entry is free for children under 10 and R50 for adults. For more information, contact 082 795 4074.