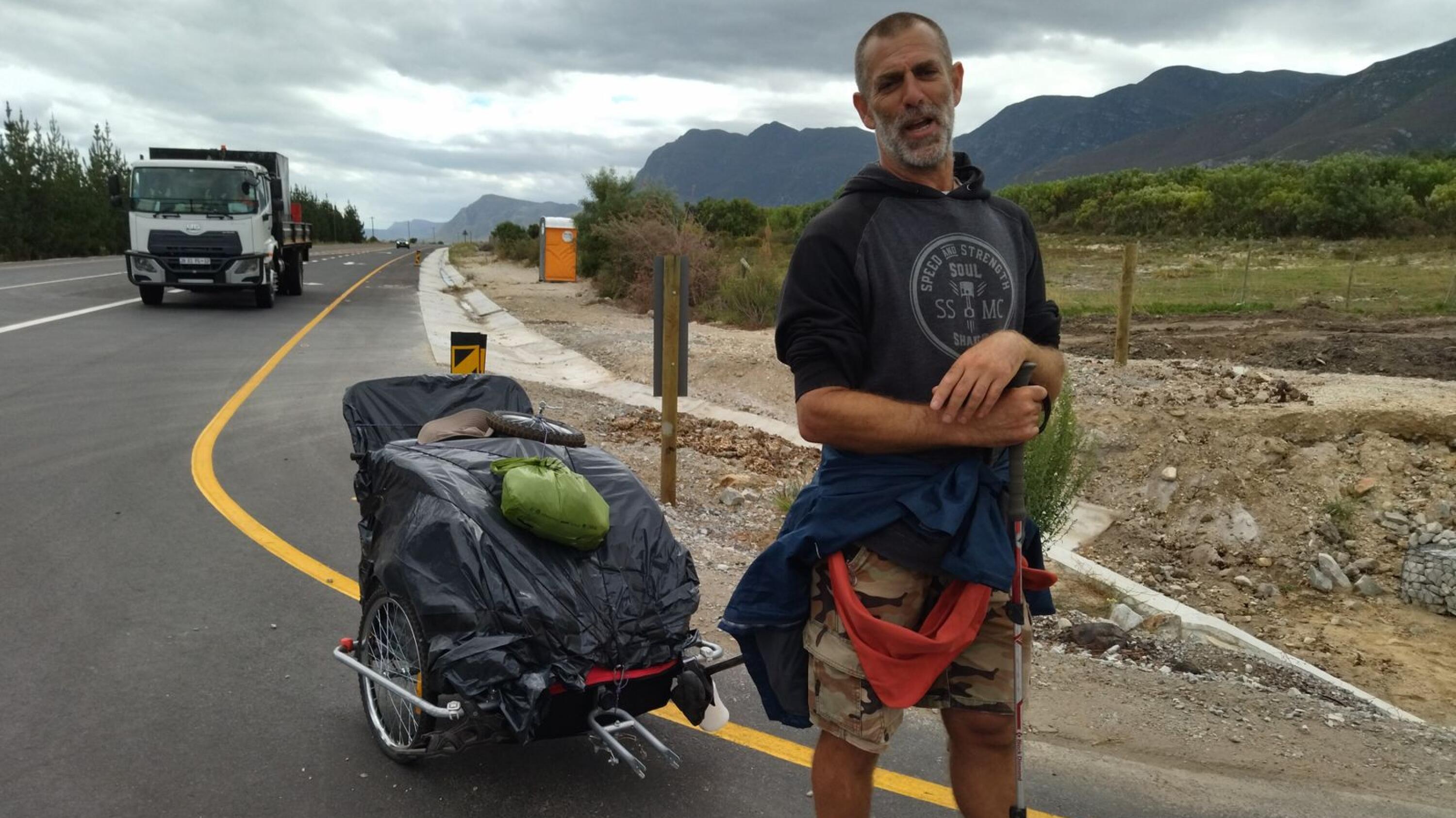 A Hout Bay man has walked 220km from his home to a tree-planting festival in Gansbaai.
Antony Stone says he did the walk to raise awareness about mental health and the importance of planting trees.
The annual Greenpop Reforest Fest is being held at the Bodhi Khaya Nature Retreat from Friday to Sunday April 1 to 3.
Mr Stone, 51, packed everything needed for the trip, including camping gear, food and toilet paper into a bicycle trailer and left Hout Bay on Thursday March 17.
With the trailer harnessed to his waist, he hit the road, reaching Langa by about 11am, then continuing along the N2 to spend his first night sleeping under a tree after walking 53km.
Next day, walking in 32-degree heat he turned off at Strand, at 6pm, and in social media video clips said it "feels like the oven door is open with a massive fan blasting from ahead".
He hugged the coast, passing Betty's Bay, Kleinmond and Hermanus before reaching Bodhi Khaya on Sunday March 27, one week earlier than planned.
"By planting trees we promote a reduced carbon footprint, reduce climate change, aid in purifying air, aid in soil erosion control, increase natural air conditioning among others," he said.
Greenpop is a non-profit organisation, based in Roeland Street, that works in sub-Saharan Africa planting veggie gardens in townships and planting trees in rural communities.
Apart from tree-planting, the festival includes talks and music, among other activities and it is about healing the scars left by deforestation, according to Greenpop's Deon Knoetze.
Greenpop says it has planted more than 85 000 trees since 2011 and has almost fully replanted Platbos Forest Reserve. Located between Gansbaai and Hermanus, the 50-hectare reserve is one of the few surviving indigenous forests in South Africa, and a reforestation project has been helping it to recover from the effects of deforestation for cultivation and fires that devastated the area in 2006.
Mr Stone, who plans to return home on foot after the festival, has so far raised more than R11 000 for about 90 trees to be planted through givengain.